The 40th Bala Catamaran open meeting took place over the May bank holiday weekend, 29th April – 1st May. A total of 17 boats entered, an increase of 6 boats, mainly due to the 4 boats which ventured across the welsh mountains from Tresaith Mariners Sailing Club. A very warm welcome was made to boats from Thorpe Bay, Minnis Bay, Datchet, Netley and Weston.
This year the event was being hosted by Bala Sailing Club who broke with tradition and agreed to run the event. This gave the competitors luxuries of changing rooms, catering and bar facilities – something which is not normally available.
The event started early on Friday with on the water training supplied by Paul Wakelin of Fluid Boat Service and organised by John Tuckwell. This was greatly appreciated with everyone involved coming away learning something new.
Saturday racing was dominated by local hero Simon Flack sailing with Ben Harris taking three 1st places in the 4 races. Behind him there was close racing between the two big Carbon 20s of John Tuckwell and Nick Elmore, Tuckwell posting a 2nd, 1st, 3rd and the lottery of the last race with an 11th. Racing was very close with race positions where separated by seconds. Further down the fleet it was good to see the two Unicorns of Steve Pooley and Richard Beke duking it out. Also the two Dart 18s of Barry Peters and Tom Parker broke with tradition and made the journey into the mountains to enjoy close racing.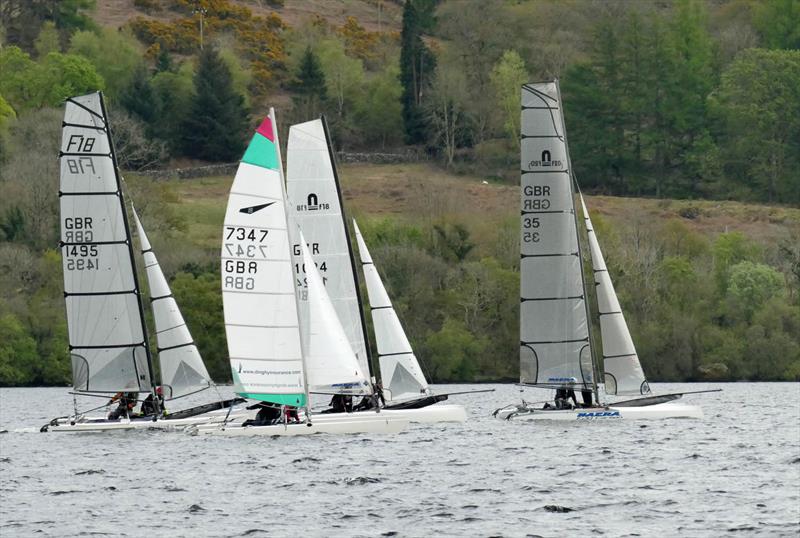 40th Bala Catamaran Open – photo © John Hunter
On Saturday night the competitors enjoyed a hog roast courtesy of the event sponsor GJW Direct which was very well received after a long day on the water.
Sunday came and the forecast was true to its word with the wind swinging to the south and coming over the mountains along with gusts of 30+ knots. This was going to be a challenging day.
The big 20's decided to sit it out preferring watch from the shore. The rest of the fleet ventured into the maelstrom that the lake had become with violent gusts immediately next to patches of no wind. It was nearly un-sailable with only one race being held and won by the Weston boat of Chris King with Flack second and Pete Jones 3rd from Tresaith.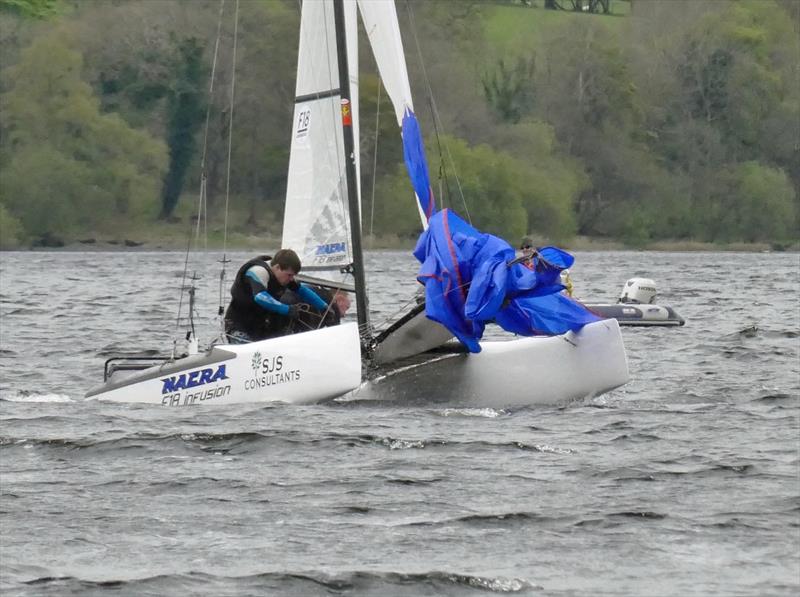 40th Bala Catamaran Open – photo © John Hunter
The third day arrived and the wind had moved more to the north and was now coming down the lake, although the strength had reduced meaning the 20's could get back on the water. The first race was won by Tuckwell from Flack in the F18 and Elmore in the other 20 coming in third. The final race was again won by Flack from Elmore and Chris King.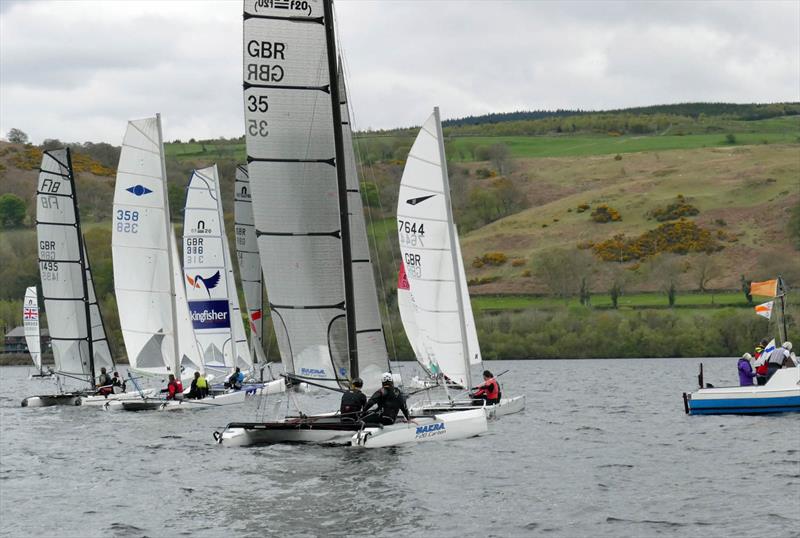 40th Bala Catamaran Open – photo © John Hunter
The final results saw Simon Flack and Ben Harris taking first from John Tuckwell and Olly Cornforth second and Nick Elmore and Andrew Wood third. The event was enjoyed by all those that attended with thanks to Bala Sailing Club who hosted a well-run event. GJW Direct were welcome sponsors of the event. Bala Sailing Club will be hosting a Grand Prix style event at the end of the May where dinghies and catamarans will race together.O