Bala is always a beautiful venue. With little wind forecast for Sunday the race officer, Ken Hull, brought a race forward so we raced two before and two after lunch on Saturday.
The wind was a bit up and down on Saturday and so were the first three places. Helen and Andrew Phillips (Cardiff Bay yacht club), James and Jenny Macgregor (Ullswater yacht club) and John and Sarah Haywood (Bala sailing club) took turns to lead races. Guy and Julie Boswell (Llandegfedd sailing club) consistently finished Fourth in every race. The other boats were locals, some trying class racing for the first time and learning fast.
Doing the sensible thing and tacking up the shifts in the middle didn't seem to work. Boats came out on top by committing themselves to one side or the other. Helen and Andrew were in the lead at the end of the first day, but this could all change.
Bala was so busy on a Saturday night we couldn't book anywhere for dinner. We ended up at the local pizza restaurant. Service was slow but the wait gave plenty of time to swap stories of fickle wind. The Haywood's provided sticky toffee pudding back in their camper van, were they trying to slow everyone down?.
Sunday morning dawned, still as anything, but by the time we launched it looked like we were going to be racing in a steady breeze. The wind held for the first race of the day, but not quite from the expected direction, Helen and Andrew took another bullet, securing overall win and Welsh Chanpionship.
A course change before the sixth race made for a more even course but the wind died before the start, leaving people desperately trying to drift to the line. Filling in as the gun went, it looked like being a proper race to the finish. Nobody was more surprised than the Boswells when they got to the windward mark first. But then it all went pear shaped. Or maybe that should be Polo shaped. Wind going round in circles with a hole in the middle.
The four lead boats wallowed for a bit before John switched his engine on and escaped. He was 200 metres ahead by the time the wind switched on and the other boats got moving. All this was too little too late to stop Helen winning overall.
<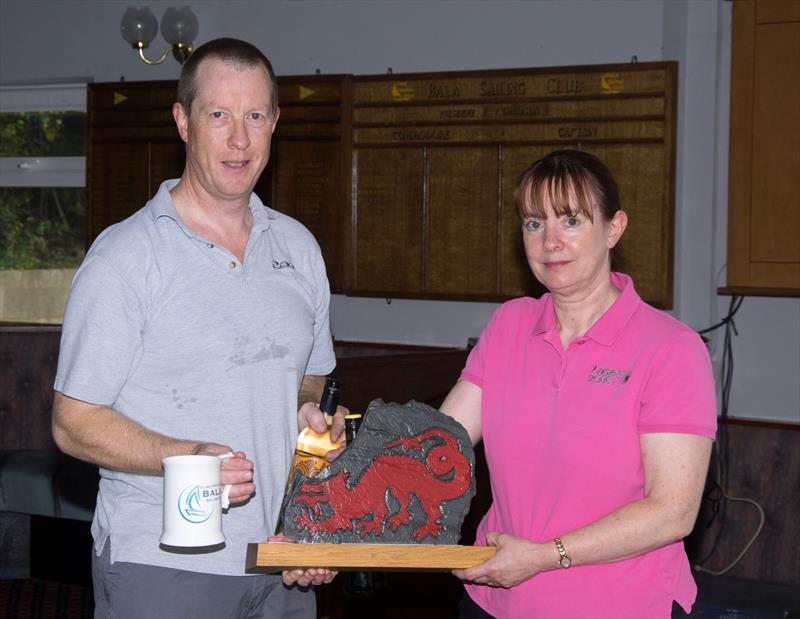 2000 class Welsh Championship at Bala – photo © John Hunter>
Well done for bringing the Dragon home to Wales and to Simon Williams and Tricia Jones from Bala Sailing Club for completing every race in their first 2000 class open. Thanks to Bala Sailing Club for great organisation, helpful club members and efficient galley.