Cold and windy but fabulous sailing conditions over the two days of the Easter Regatta at Bala.
It was great to see three Flying Dutchmen make the journey to Bala for the event from as far afield as Scotland and the South Coast, we also saw for the first time a Catamaran enter the event.
The competition was split into two fleets, asymmetric boats sailing a windward leeward course, and a general handicap fleet sailing around the cans.
The Asymmetric fleet was dominated by Mike Allen from Bala in a Devoti D-One who managed five first places out of six races.
In second place came the Formula 18 Catamaran sailed by Mike & Alex Cleaver from the Bala Catamaran Club, & in third place the SB20 sailed by locals, Ken Hull Steve Chandler & Steve Williams.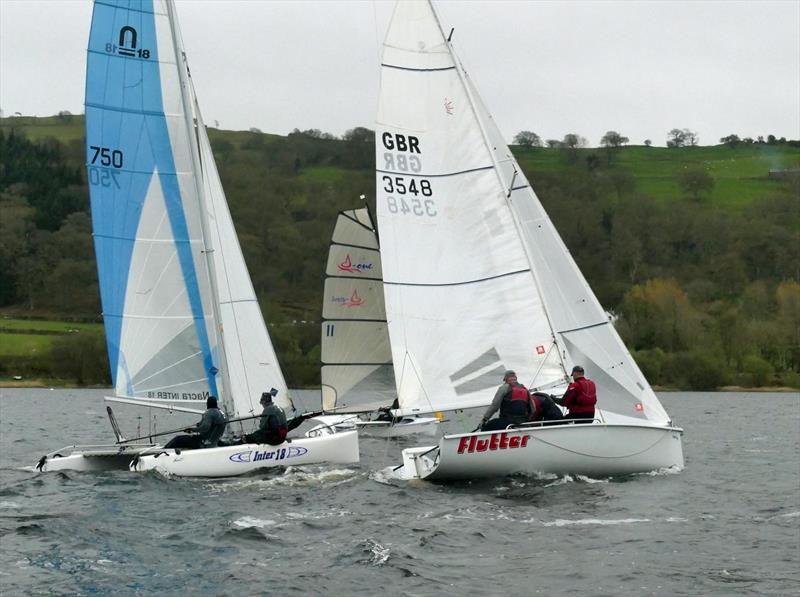 Bala Easter Regatta – photo © John Hunter
The Handicap fleet was a closer fought battle, but the eventual winner was Kath Broach & Toby Hamer in a Fireball, followed by Alistair McLaughlin & Mark Taylor in a FD, & in third place Jon Williams & Alex Rogers also in an FD.