After virtually no wind for the last month, the morning of Long Distance Race arrived, & it was just about perfect. A 15mph wind was blowing straight down the lake, with gusts of 20mph for a bit of added interest. Thirty-two boats filled the start line across the lake and started their first beat to the Long distance mark, three miles away.
First to arrive were Peter & James Findlay in a Nacra F20 Carbon Catamaran, who on handicap looked to be a potential winner, but on the second run, their spinnaker halyard broke and put an end to their race.
Most of the catamarans completed four laps of the course, as did Terry Pressdee in a Musto Skiff, but most of the remainder did three laps. The gusts caught quite a few out and probably 20% of the fleet capsized at least once.
When all the number crunching had been completed, Terry Preedee from Yorkshire Dales Sailing Club sailing a Musto Skiff was declared the winner and will now have his name engraved on Long Distance Trophy.
In second place came Jon Williams & Alex Rogers from Port Dinorwic / Rutland SC, sailing a Flying Dutchman, followed by Dan Johnson & Ben Latham from Errwood SC in a Fireball.
Full Long Distance results can be found here.
After an evening BBQ and a few drinks from the bar every one headed off for a well needed nights sleep.
Sunday morning arrived with another perfect SW F3-4 for the 2018 Grand Prix race.
Eighteen boats entered and braved the Long Distance course, again to the very top of the lake making the beat over three miles long. The first window opened at 11am, and with plenty of breeze the majority of the competitors took to the water and put their laps in. Peter Findlay took an early lead with a corrected time of 55.26, which stayed top of the board as the day went on and the lap times kept coming in. The last window opened at 2pm and with the breeze building to a steady F4+ and number of boats decided to put another lap in and boy did it pay off. With most of those boats taking around 4 minutes off their best previous laptime made for some huge changes in overall positions.
From the race box that last window looked epic, something Bala SC Commodore, Steve Pooley would agree with after coming off the water with a huge smile. He said it was flat out at times but he loved it!
The final results were posted and in 1st place it was Peter/James Findlay (Bala SC) in their Nacra F20 Carbon who's fastest lap was just 14 seconds faster than 2nd placed Steve Pooley (Bala SC) sailing his Unicorn Catamaran. Rounding out the Top 3 was a Fireball, sailed by Keith McDonald/Andy Brittain from Small Heath SC.
Full Grand Prix Results can be found here.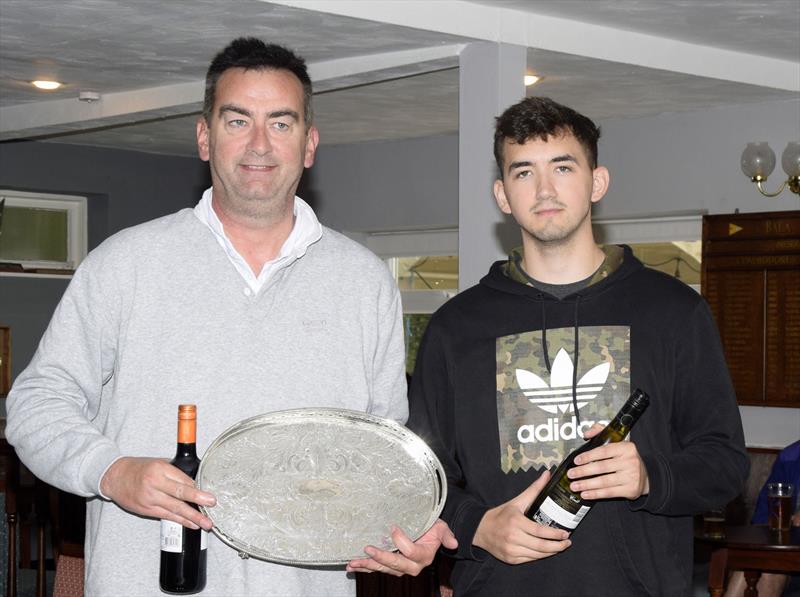 Peter/James Findlay win the Grand Prix Race during the Bala Long Distance and Grand Prix Race Weekend 2018 – photo © John Hunter
The next Open Event at Bala SC is the three day August Bank Holiday Regatta. There will be fleets for Handicap, Asymmetrics and Catamarans.