Catapult again welcomed the hospitality of Bala Sailing Club for the 2018 Nationals, June 30th – July 1st. A ENE-NE breeze off the land at the top of the lake built as each day went on, still with lulls and gusts, and 20-30 degree swings (usually too unpredictably to tack with shifts). The club set port-rounding triangles suiting the boats.
In Race one Paul Ellis had immediate speed for a big lead, until John Terry and Gareth Ede moved out from the chasing pack, and on lap two went left upwind to catch Ellis. The front three changed places catching shifts upwind, and gusts on the reaches, until Ede took his first win, with Terry second and Ellis third.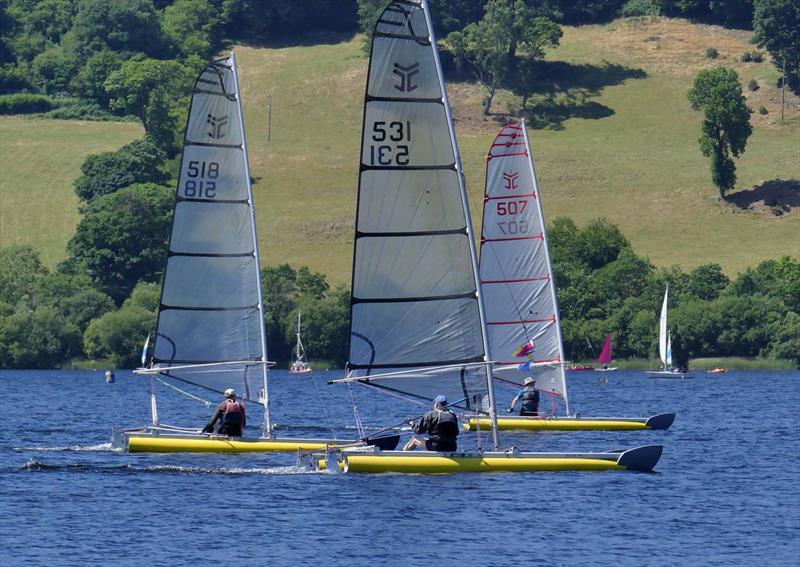 Catapult Nationals at Bala – photo © John Hunter
The wind increased overall for race two, mainly through the occasional gusts. Alastair Forrest's good start gave him a small lead until caught on the third leg by Terry, and then by Gareth Ede, who pulled away to build a large lead held to the finish. Ellis again came through, until on the final leg a lift gave Forrest a narrow third.
From a good start in race three, Ellis led round lap one, handed over by an error to Gareth Ede, chased by Terry, with holes and gusts upwind shifting fortunes until Ede stretched away on lap three. Syd Gage's speed on the second lap reaches brought him out of the pack to push Terry hard, who won the battle for second. Meanwhile Stuart Ede had gained twice by heading left upwind, to just deny Gage the third place.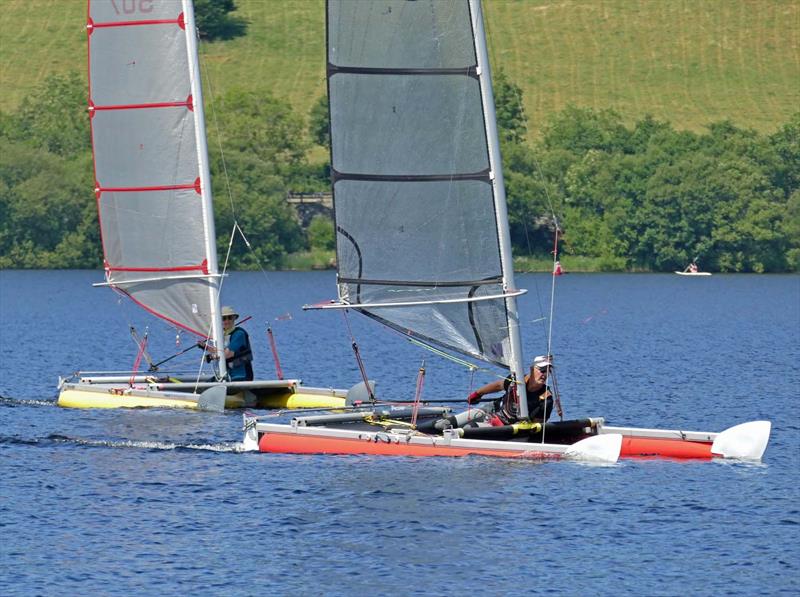 Catapult Nationals at Bala – photo © John Hunter
Sunday's breeze filled in gradually, becoming gusty. The extended race four course down the lake gave no more stability to the shifting breeze. The fleet tightened up downwind, with Gareth Ede and Terry contesting the lead, just held by Ede for another win. Behind, Stuart Ede took another third place, pushed hard by John Peperell.
In race five, following back-to-back, the fleet stayed tight down the reaching legs, until Mike Gough staying out right upwind had a big lift to join Ellis and Gareth Ede as a lead group at the windward mark. Ede managed to overtake Ellis on the reaches, pulling away on lap two for the win. Ellis climbed to second again going left, and held off Terry for second as the chasing pack closed in.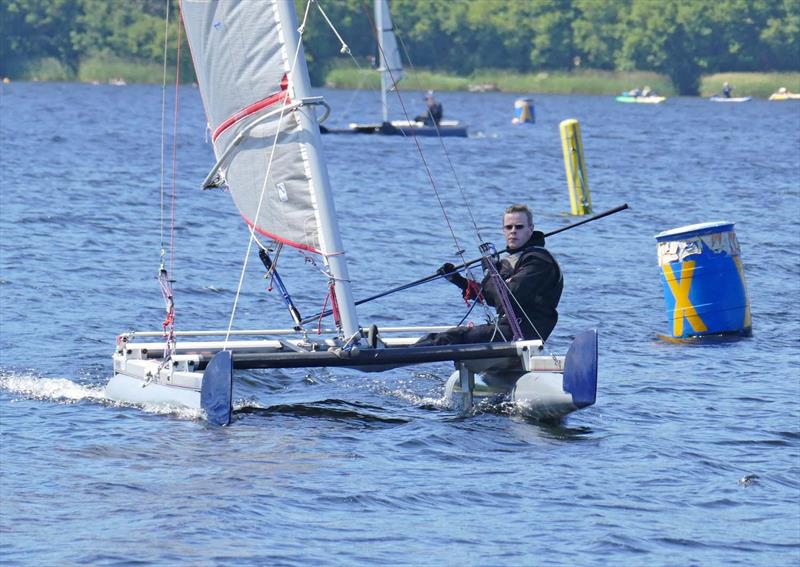 Gareth Ede wins the Catapult Nationals at Bala – photo © John Hunter
Gareth Ede, able to count five straight wins, was a clear 2018 Champion, and missed race six, when Gough and Nigel Harrison flew across the fleet from a port end start. Again the fleet changed places in the shifting breeze upwind, but Terry came firmly through to the lead, to be a clear Championship runner-up. Behind him Forrest grabbed a good lift to catch Ellis but was caught again as Ellis consolidated the third place overall.
Overall Results:
| Pos | Helm | R1 | R2 | R3 | R4 | R5 | R6 | Pts |
| --- | --- | --- | --- | --- | --- | --- | --- | --- |
| 1st | Gareth Ede | 1 | 1 | 1 | 1 | 1 | ‑14 | 5 |
| 2nd | John Terry | 2 | 2 | 2 | 2 | ‑4 | 1 | 9 |
| 3rd | Paul Ellis | 3 | 4 | 5 | ‑5 | 3 | 2 | 17 |
| 4th | Stuart Ede | ‑5 | 5 | 3 | 3 | 5 | 4 | 20 |
| 5th | Alastair Forrest | 4 | 3 | 6 | ‑8 | 6 | 3 | 22 |
| 6th | Syd Gage | 7 | ‑10 | 4 | 7 | 7 | 5 | 30 |
| 7th | Mike Gough | 9 | 6 | 8 | (10) | 2 | 6 | 31 |
| 8th | Nigel Harrison | 6 | 7 | 7 | 6 | ‑10 | 8 | 33 |
| 9th | Chris Upton | ‑12 | 9 | 9 | 9 | 11 | 8 | 46 |
| 10th | John Peperell | 8 | ‑14 | 14 | 4 | 8 | 14 | 48 |
| 11th | Damien Cooney | 10 | 8 | ‑14 | 12 | 13 | 9 | 52 |
| 12th | Markus Reuber | 13 | 11 | 10 | 11 | 12 | ‑14 | 57 |
| 13th | Justin Evans | 11 | 14 | 14 | 14 | 9 | ‑14 | 62 |