Thirteen competitors from as far afield as Scaling Dam and Maidenhead gathered at Bala for the Albacore Northern championships over the weekend 29/30 September.
With the wind more or less from the west the first race got away with a fairly long beat down the lake. Mike Hartley from West Kirby worked his way through the fleet to finish third, whilst Ian McLean from Dee managed to lose four places and finish ninth. Being the first race there was some confusion at the finish, Amongst the leaders on the final beat to the finish a number of the sailors seemed initially intent on passing the committee boat on the wrong side until obstructed by a RIB. There was some talk of PROTEST but this was eventually dropped.
After lunch the second race got away using the same course but with more fickle winds. Generally overall positions were much as in the first race with Peter Snowdon from Scaling Dam who had won the first race dropping down to second whilst Judy Armstrong also from Scaling Dam took first.
For the last race of the day with the wind more variable a new course was set with reaches back and forth across the lake. After three laps Matt Biggs from Blithfield had moved up from fourth to first.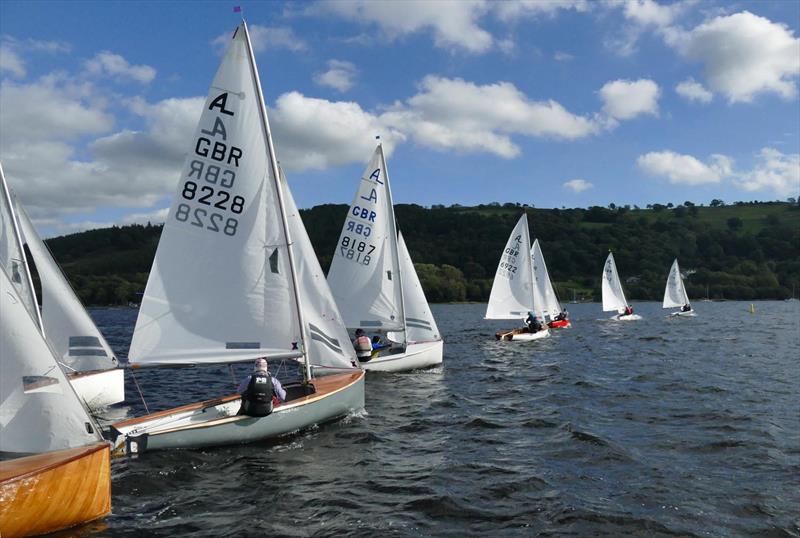 Albacore Northern Championship at Bala – photo © John Hunter
Sunday morning and with the winds now very variable and having swung round to now be more from the north west the race officer Simon Lewis had his work set out, setting short beats across the lake. The first race of the day got away after a short delay, and due to the light winds the race was shortened to two laps. Judy once again took first place whilst Matt having found his feet in the last race on Saturday took second.
After lunch a simpler figure of eight course was used. With the fickle winds Phil Smith, RYA and Kevin Lyons, Elton SC both decided they had had enough and retired. Mike Banner from Leigh and Lowton who had initially been fourth dropped back to sixth whilst Tim Coleman also from Leigh and Lowton moved up from sixth to fifth. Mike Hartley back in the swing of things again took first.
With just four points separating the first four boats the last race was going to be critical. At the end of the first lap Mike Banner was first, however as the race proceeded he lost out to finish sixth. Mike Hartley took his second win of the series to be second overall. Although Judy Armstrong had her worst race of the series a fourth she still managed on count back to be the Albacore Northern Champion.
Only four points separated the first four boats. Well done everyone under difficult conditions.O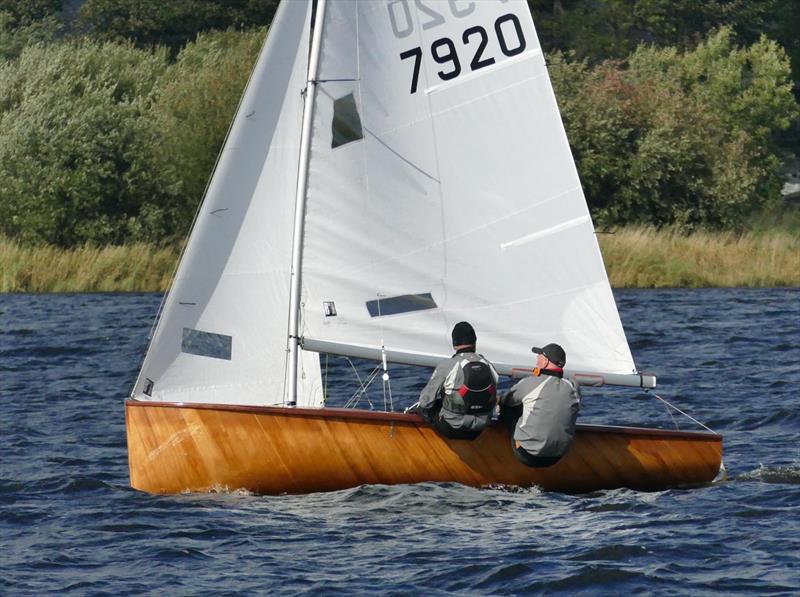 Albacore Northern Championship at Bala – photo © John Hunter